How is Mobile Health Care Technology Changing the Medical Device Industry?
Special report for Medical Device Executives
New technologies are entering the market on a global scale that have the potential to change the way the medical device industry will operate in the future.
Those executives that are aware of the dynamics of these new realities will be better prepared to make decisions and adapt to this global phenomenon.
In order to inform you about key aspects of disruptive innovation, we have published a new white paper entitled: Will Disruptive Innovation Commoditize Medical Devices?
In this special report you will learn:
What defines a disruptive innovation;
How this will impact the medical device diagnostic and therapeutic markets;
What factors could potentially commoditize current products;
How the confluence of 3 technologies is reshaping the future-generation of medical devices;
What future therapeutic devices will look like as a consequence of these 3 technologies;
What are the factors shifting decision making power away from providers and toward end users;
What the top two areas of investor interest will be in the next year and their relationship to future medical technology;
What the organizational impact will be for executives looking to integrate disruptive technologies into their product mix;
What 6 steps companies are taking to get ahead of this trend;
Download this information with our complements.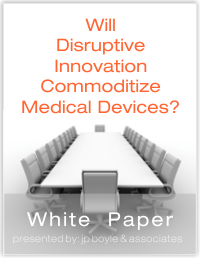 NOTE: All fields are required.
Privacy Note:
All contact information is considered private and strictly confidential.